About Miller's Flowerland
Alliance, OH Florist - Miller's Flowerland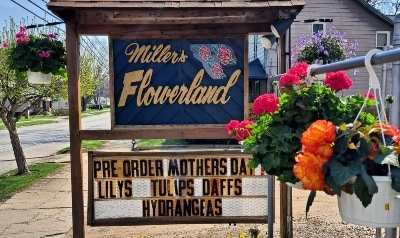 Alliance, OH Florist, Miller's Flowerland and Greenhouses is a family-owned business located at 468 W. Vine Street in Alliance, Ohio, United States. The company was founded in 1953 by Richard and Marge Miller, who were passionate about horticulture and wanted to share their love for plants with the community.
Over the years, Miller's Flowerland and Greenhouses has grown to become a leading supplier of high-quality plants, flowers, and gardening supplies in the Alliance area. The business has expanded to include multiple greenhouses and a wide variety of plants, including annuals, perennials, herbs, vegetables, and more.
Today, Miller's Flowerland and Greenhouses is run by the second and third generations of the Miller family, who continue to uphold the company's commitment to providing exceptional customer service and top-notch products. We are dedicated to helping customers create beautiful and thriving gardens, and their expertise and passion for plants have made us a beloved fixture in our wonderful Alliance community.